Intensive soccer course for 2 weeks
Directed by Adolfo Aldana With the best professionals, first level coaches and legends of our league.
Modalities
We keep the prices of the soccer course !!
Choice of week 1 or week 2.
From 10:30 a.m. to 1:30 p.m.
Free bus.
Small groups from 5 to 17 years old.
Full equipment.
Breakfast and moisturizing drinks.
From 10:30 a.m. to 1:30 p.m.
Free bus
Small groups of 5 to 17 years old.
Complete equipment.
Breakfast and moisturizing drinks.
Internship
Intensive soccer course
If you want to stay in a boarding school, call one of these phones:

607317802
654206015
636712080
Dates
1st Week: from July 3 to July 7, 2022
2nd Week: from July 10 to July 14, 2022
BIG FINAL PARTY 15 July
Facilities
Spectacular training facilities !!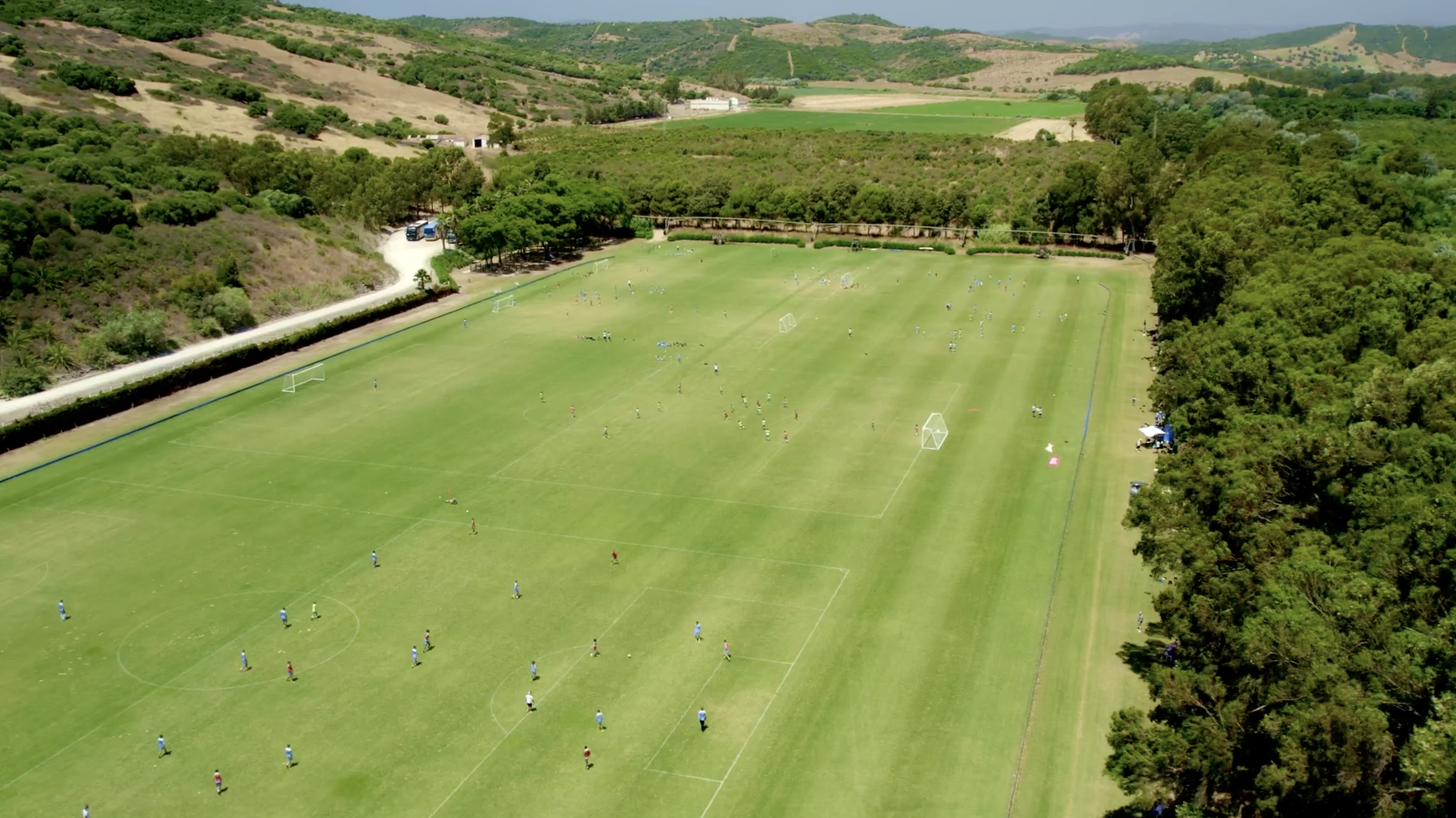 We reward your fidelity.
Only for having participated in a previous complete edition …
30 € DISCOUNT
Only for full course. Not combinable with other offers.
Free Bus
Desde Málaga

Benalmádena > Fuengirola > Elviria > Marbella > Estepona
Desde Algeciras
Algeciras > San Roque > Sotogrande 
Informative meeting with parents Friday, June 30, 8:00 p.m.
Delivery of material: Friday, June 30 from 7:00 p.m.
Facilities: Puente de Hierro Sotogrande Polo Club
ADOLFO ALDANA
Adolfo Aldana Torres, national soccer coach, graduated in Physical Education, high school teacher and with a long experience in professional football.
In his curriculum appear the names of some of the largest clubs in the continent, where Real Madrid stands out (three leagues, a Copa del Rey and a Supercopa).
Highlight its passage through Deportivo de La Coruña (a Copa del Rey and Supercopa) and the R.C. Spanish Sports
International with the Spanish national team on 4 occasions.
His connection with the world of sports does not end in this professional trajectory, since he continues his training and thus gets to obtain other degrees:
Regional football coach -level 1:
Galicia; Level 2: Extremadura.
National football coach -level 3: Andalusia (year 2002).
National volleyball coach
Handball trainer-monitor
Monographic courses on: badmington, swimming, alternative sports, gymnastics.
It also carries out other types of activities, where the union and close relationship between the world of education and sport are usually present:
Speaker at conferences, round tables and talks on sport (sports initiation, violence in sports, sports and soccer …) in Summer Courses, in ICD, etc.
Director of the "Law and Sport" Seminar held in the city of Algeciras in May 2005 and May 2006.
Linked for several years to different TV channels and radio stations, regional and national, as a sports commentator.
REUF DERVIC
Qualifications and professional data
Bachelor in Physical Education (specialty in soccer and physical preparation). Year: 1996
Football Coach (National Title of the Croatian Football Federation). Year: 1996
RFEF Football Level 2 title. Year: 2006
Professional experience
1996/97 season
After finishing university studies in 1996, he took the position of assistant coach of NK Lucko (second division). In this season, 96/97, they remain as champions of the Croatian league. In this season he is responsible for the organization of technical-tactical strategies and physical preparation of the players with methods for the analysis and preparation of the short and long-term objectives.
1997/99 season
Accepts the offer of the former coach of Spain and Croatia in volleyball, Mr. Pero Bozic, as physical trainer of Ivesur Málaga (maximum division – division of honor). Later he works with the coach – national coach Paco Hervás in the last season of Ivesur Málaga (season 98/99).
Season 2000/02
Director of the Gym Gym Inter where he performs the individual preparation of elite footballers, some of them of the soccer team, Málaga CF.
Season 2002/06
The High Performance Center of elite footballers (Marpafut in Marbella – Málaga -) will register you as coach – director of the Soccer Academy / Marbella Paraíso CF. It participates as a creator and founder member of the same, in addition to performing other functions and competencies: performs and controls the training, and is responsible for compliance with all the objectives of the technical organization that works in the Academy.
Among the works he carries out, mention:
Planning the objectives by season.
Planning of training and coordination of them.
Writing reports on sports nutrition.
Planning the physical preparation of the players.
Analysis of progress of each player in the technical-tactical aspect and its improvements.
Responsible for analysis of professional clubs of the stature and recognized European and world prestige of: Bayern Munich, Middelsbourg, Cameroon Selection, Dynamo Kiev, Lokomotiv Moscow, Brondby, Shakhtar …
He gives an answer in his analytical work to: forms of training, comparisons between different models of each country, methodology used by the most important trainers / clubs of the continent …
During the summers, since 2004, together with the former Spanish international player, Mr. D. Adolfo Aldana, he organizes and directs football camps focused on perfecting the technique of boys of all ages. It is one of the most important courses of improvement at national level due to the participation of such important names as: Fabio Capello, Vicente de Bosque, Donato, Fran, Santiago Aragón, Julio Llorente, Fernando Sanz …. The direction and organization of this campus brings a lot of experience not only for the young players but also for the technical team that carries out the teaching, something that is highly valued and recognized by all the boys, fathers and mothers, technicians, collaborating entities and visitors.
You will train with professional trainers
Under the direction of Adolfo Aldana
OUR OBJECTIVES
The Campus Management has marked a series of following objectives that will accompany us in these days where sport, fun and conviviality will be united for the enjoyment of the children.
TEAMWORK
To develop, in the form of games, the coordinative capacities applied to football, based on all the technical elements of this sport.
SPORTSMANSHIP
To awaken interest in the younger ones by other sports and by alternative and adventure activities.
FELLOWSHIP
Encourage, through daily coexistence, the relationships of friendship and friendship.
AWARENESS
Create awareness of the importance of conservation and respect for the environment through the activities we will develop for this purpose.
More specific football and in order to perfect our technique:
Correction of the most common individual technical-tactical errors.
Develop the game vision and motor intelligence, through specific games.
To obtain, through circuits, the improvement of all the technical and physical foundations.
Learn to play in a team
Develop specific training for goalkeepers.
Know and enjoy the presence and teaching of coaches, players and former national and international players.
Rules of internal regime
One of the most defined objectives of this campus is coexistence. For it to acquire the values ​​that the Organization wishes to establish, it is necessary to comply with and respect, from the responsibility, each of the following standards:
1.- Respect all the people who participate directly and indirectly in the Organization of this campus.
2.- Respect the schedules of the activities and the planning of said activities.
3.- Do not abandon, under any circumstances, the facilities destined to the development of the activities.
4.- Do not smoke or drink alcohol.
5.- Do not damage the facilities.
6.- Respect all classmates (heavy jokes or continuous discomforts will not be allowed). Fights, intimidation or insults will not be allowed.
7.- They will not take things, without permission, from their classmates, and much less they will get away.
Failure to comply with any of these norms, or other similar ones, will be grounds for reprimand or expulsion.
And, in addition, we advise that:
– Do not bring valuables (chains, rings, bracelets, …) that may be lost.
– Do not bring cash (try to make the pocket money a moderate amount).
Each boy will be assigned a responsible monitor who will keep him informed of all types of incidents.